Just rub the air vigorously near the offending sound. Sounge will show you a picture of a scrubbing hand to indicate that it is soaking up the noise. After a few seconds, Sounge will have absorbed all of that nasty sound, and will store it (mixed with any other sounds you have already soaked up) until you wring it out.
To wring out Sounge™, just squeeze it as you would any ordinary sponge. Sounds come pouring out into whatever vessel you choose to dispose of them.
Sounge can hold many noises at once, but each time you soak a sound, it will absorb less of it until you wring it out, clearing out all the bad noise.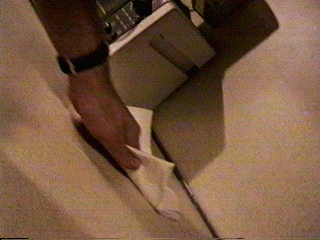 Scrubbing the air with Sounge™ produces an appealing graphic that lets you know Sounge is soaking. The more sounds you soak up, the darker the graphic will become.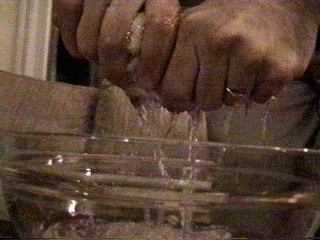 Later when you squeeze the sound out, you will be rewarded with this convenient image, letting you know that all the sounds you've collected are being wrung out of Sounge™.