Introducing the amazing Sounge™
from Simon Greenwold
| | | |
| --- | --- | --- |
| | | Suffer obnoxious noises no longer! |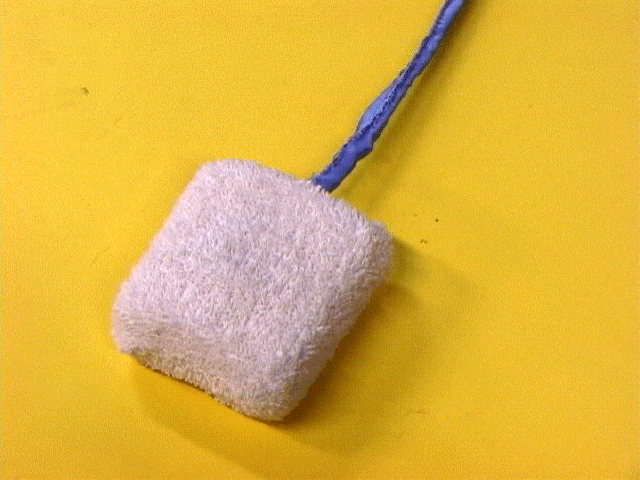 Sounge™ soaks up unwanted sounds anywhere:
| | | |
| --- | --- | --- |
| • in the house | | |
| • from the highway | | |
| • on the jobsite | | |
| • from annoying individuals | | |
---
| | | |
| --- | --- | --- |
| Independent research indicates that fully 75% of all sounds are unwanted noise! In the past our best defense against noise was uncomfortable earplugs or bulky mufflers. Now there's Sounge™, attacking waste sounds at the source. Sounge™ actively scours the air with potent "Listen Up" technology actually lifting tough sounds from the environment. | | Sounge™ makes earmuffs ancient history! |
---
To use Sounge:
Just rub the air vigorously near the offending sound. Sounge will show you a picture of a scrubbing hand to indicate that it is soaking up the noise. After a few seconds, Sounge will have absorbed all of that nasty sound, and will store it (mixed with any other sounds you have already soaked up) until you wring it out.

To wring out Sounge™, just squeeze it as you would any ordinary sponge. Sounds come pouring out into whatever vessel you choose to dispose of them.

Sounge can hold many noises at once, but each time you soak a sound, it will absorb less of it until you wring it out, clearing out all the bad noise.


Scrubbing the air with Sounge™ produces an appealing graphic that lets you know Sounge is soaking. The more sounds you soak up, the darker the graphic will become.


Later when you squeeze the sound out, you will be rewarded with this convenient image, letting you know that all the sounds you've collected are being wrung out of Sounge™.
---
How it works:
On the outside Sounge™ looks like any ordinary body sponge, but in fact it is jam packed with an array of sophisticated high-tech devices.
• An accelerometer chip measures every movement Sounge™ makes, making it possible to detect scrubbage on any axis.
• Two force-sensing resistors mounted on the sides of Sounge™ (inside the protective terrycloth sheath) detect squeezing.
• A tiny microphone implements the "Listen Up" technology, allowing the absorption of sound.
• A small speaker allows Sounge to emit a mix of all the bad sounds it has stored.