SCRIBBLE
A LIVE AUDIOVISUAL CONCERT
"Bluntly powerful" - Tanya Bezreh, Artbyte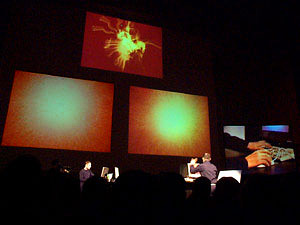 Composed and performed by Golan Levin, Scott Gibbons and Gregory Shakar. Performed on the Audiovisual Environment Suite of digital performance instruments developed by Golan Levin at the MIT Media Laboratory.

A DVD-Rom of Scribble is now available from the Ars Electronica Center. This DVD-Rom includes a multi-angle video, Dolby-surround sound recording of the half-hour Scribble premiere performance, as well as the AVES software itself (Win2000 only).
concert picture
concert picture
concert picture
concert picture
high-res concert picture
high-res concert picture
About SCRIBBLE
Scribble is a live color-music performance originally commissioned from Golan Levin in September 2000 by the Ars Electronica Festival. Reviving and updating a decades-old tradition of kinetic light performance, Scribble features tightly-coupled sounds and dynamic visuals which are at times carefully scored, and at other times loosely improvised. Scribble has been presented in duo and trio formats at the following festivals and venues:

• Orchestra Tech, NYC, 10/2001
• Interact01, Gifu, 10/2001
• Mama Media, Zagreb, 3/2001
• Berlin Transmediale.01, 2/2001
• Opera Totale 6, Venice, 1/2001
• Tonic, New York City, 1/2001
• New York Digital Salon 8, 12/2000
• Ars Electronica 2000, Linz, 9/2000
Scribble is performed on the Audiovisual Environment Suite (AVES), a set of five interactive systems which allow people to create and perform abstract animation and sound, simultaneously, in real time. Each instrument is an experimental attempt to design an interface which is supple and easy to learn, yet can also yield interesting, infinitely variable and personally expressive performances in both the visual and aural domains.

Ars Electronica 2000
Scribble Performance Video
(Excerpt: 28 Mb MPEG)